Dear Support Team,
I have issues with GPRS dial up connection. It simply fails to open specified COM1 (UART6 in my case) port although port is certainly not used by other applications: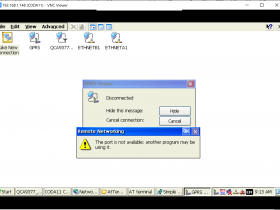 I have simple terminal application which I use send AT commands on COM1 port and it works without issues, so I confirm that GSM module works, and COM1 works (GSM module answers to AT commands, registers on network and I can even make GPRS connection using AT commands).
Do you have an idea what could be the problem? Maybe Windows CE dial up monitors some UART line and falsely concludes that port is occupied based on its level?
PS I have this issue after we changed GSM module attached on COM1. Previously we have used Telit GL865 and dial up worked normally. We are now trying to put Quectel EG91 in use, but the problem with dial up occurred.
Best regards,
Vladimir